Just because it's cold outside doesn't mean that we can't enjoy the benefits of Cold-Pressed juices. Actually, these beverages are exactly what we need for the winter months where the selection of produce is less and our chances for becoming ill are greater.
Since 2014, we have worked hard to create a flavorful, nutrient packed and consciously crafted line of Cold-Pressed juice using 100% organically grown fruits, vegetables and super-foods. Our goal was to come up with fresh and delicious flavor combinations that were nutritionally balanced. We have selected three of our top immune boosters full of seasonal produce to help keep you healthy this winter:
Greens with Benefits – Detoxifying | Alkalizing | Immune Boosting | Aids Digestion | Anti-Inflammatory
Our most popular 100% Organic Cold-Pressed juice, Greens with Benefits boasts a delicious and classic combination of flavors: Kale, apple, lemon, ginger with an addition of spinach and a bit of honey for sweetness. Ginger will warm you up from the inside while acting as a potent anti-inflammatory that aids in detoxification and digestion. Kale and spinach are rich in antioxidants, vitamins, and minerals essential to body function; a serving of this juice alone provides 70% of the daily recommended amount of Vitamin A! Honey and lemon provide antibacterial/fungal properties and really help to support immune functioning. The name isn't lying…with this juice you really do get your greens, with benefits!
Ingredients: Kale, Lemon, Ginger, Apple, Honey, Spinach.
Ruby Rose – 
Vitamin & Mineral Rich | Immune Booster | Aids in Healthy Digestion | Mood Enhancer | Respiratory System Tonic | Cleansing

This may be our most winter season friendly beverage. Grapefruits and apples are staple winter produce items and so is fennel while rosemary and lemon remain available year round. Grapefruit and lemon are rich in Vitamin C and help to cleanse the body and boost immune functioning. For centuries, people have turned to fennel for its digestive benefits; fennel is also rich in Vitamin C, A, Niacin, Folate and minerals like potassium, manganese, calcium, phosphorus, iron, and magnesium. What makes this juice most interesting is the addition of rosemary. This traditionally savory herb improves blood flow and acts as an anti-inflammatory making it fantastic for reducing the effects of migraines and treating pain. Ruby Rose remains a popular favorite of ours and is perfect for getting us going on those early farmers market days!
Ingredients: Grapefruit, Apple, Fennel, Rosemary, Lemon
Beet It – Rich in vitamins & minerals | Increases mood, mental clarity & alertness | Alkalizing & Cleansing | Anti-Inflammatory, Aids Digestion, Immune Boosting
Just Beet It! Beets are another winter staple item that are not only rich in vitamins, minerals, and antioxidants but also help cleanse our body, purify blood, and maintain liver function. Beet It boasts the same benefits associated with lemon, apple, kale, and spinach as previously mentioned. The addition of Ginkgo Biloba makes this beverage different from the rest in our line up of 100% Organic Cold-Pressed juices. Ginkgo Biloba is known to improve memory, concentration, and mental alertness and may provide relief for headaches, sinusitis, and vertigo. So not only does Beet It help our bodies beat the winter blues, but it also brings our brains up to par when feeling foggy from the shock of cold weather. Sounds like a win-win.
Ingredients: Beet, Apple, Lemon, Celery, Kale, Spinach, Ginkgo Biloba
---
What does Cold-Pressed mean?
Cold-pressed refers to the juicing method we use and literally means pressed while cold. Most traditional juices are made with a centrifugal juicer which applies friction, heat and oxidation to the produce leading to a lower nutrient content. It has been proven that heat damages nutrients and vital enzymes naturally occurring in fruits and vegetables…these nutrients and enzymes are the whole reason we want to drink juice!
Cold-pressed juicers use a blade that titrates the fruits and vegetables, breaking up the fibers into pulp so the juice can easily be extracted. This pulp falls into a finely woven bag which is squeezed by a powerful press. Every last drop is squeezed out of the pulp with this press, making this the least wasteful juicing method! Because the juice is never heated, the quality of the nutrients, amino acids, phytonutrients, trace minerals, and enzymes remain completely intact.
The Bottom Line: Cold-Pressed juice is hands down the highest quality, most nutrient dense, pristine, and flavorful juice known to man!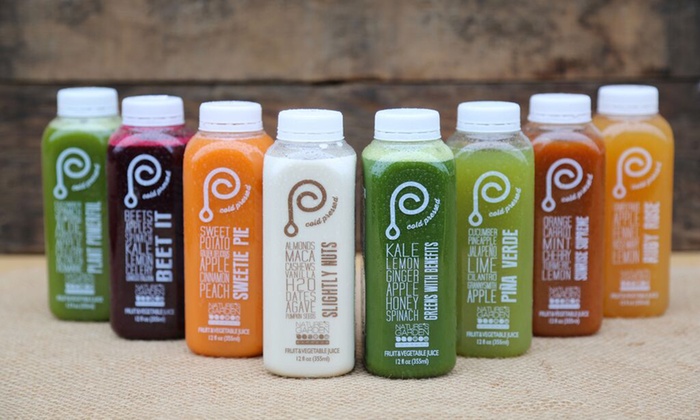 Click on the photo above to browse our full line of 100% Organic Cold-Pressed Juices
---
Check out our website to browse our full selection of Certified Organic produce, pastured meats, prepared foods, pantry staples, and more! www.naturesgardenexpress.com
If you have any  questions, please contact our customer service department. Office hours are Monday-Friday from 8:00am – 5:00pm and you can reach us at (770) 441-9976. We would love to hear from you!